History of the Church
"So built we the wall; and all the wall was joined together unto the half thereof: for the people had a mind to work."
– Nehemiah 4:6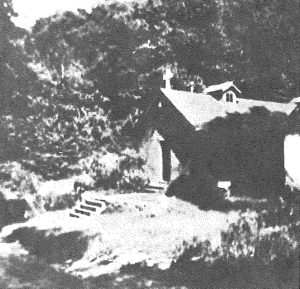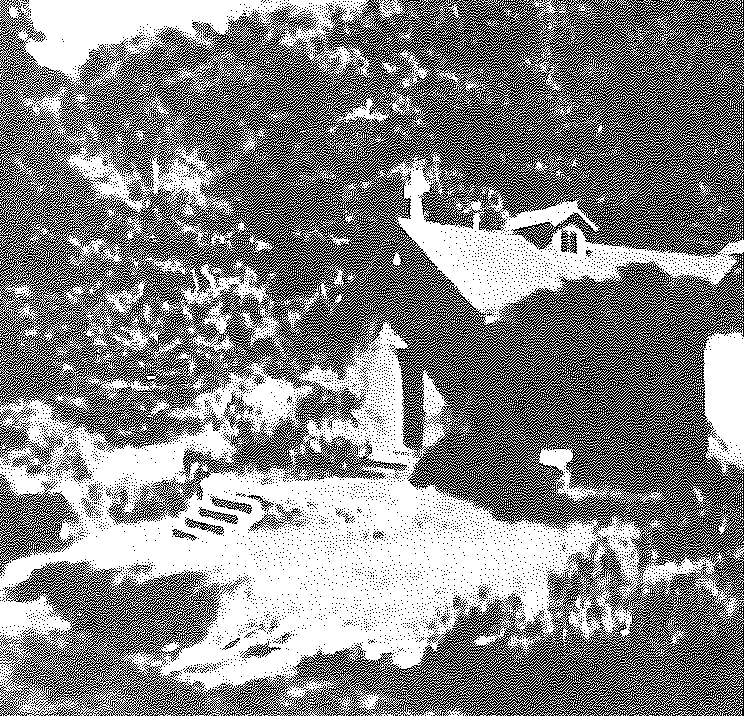 St. Christopher's Church was formally incorporated as a parish of the Diocese of Pennsylvania in 1949.  During World War II, the Rev. Dr. Gibson Bell, the Rector of All Saints Church in Wynnewood and the Headmaster of The Montgomery School (an all-boys K-12 prep school also in Wynnewood), had been holding Episcopal services at the Gladwyne Community Hall (now Gladwyne Free Library) under the auspices of the St. Joseph's Mission. The Mission was affiliated with All Saints Church and had been holding services in Gladwyne since 1911.
Realizing that the growing suburb of Gladwyne could perhaps support its own Episcopal church, Dr. Bell went about enlisting the help of prominent Gladwyne residents.  At the time, Dr. Bell also knew about the bequest made to the Diocese by the Goodbread family to build a church in Lower Merion Township.  Combining those two essentials, a church was needed in Gladwyne and there was money to pay for a new church building, he recruited Wan Balis, Walter Lippincott and Jack Dorrance to form a committee to consider forming an Episcopal church in Gladwyne.  They surveyed the Gladwyne community and found 90 families that would support such a church.  The Diocese of Pennsylvania had been bequeathed about $160,000 by the estates of David and Elizabeth Goodbread in trust to "build a stone edifice church in Lower Merion, Montgomery County".  The Committee, chaired by Jack Dorrance, went to the Diocese to request that the Goodbread funds be used to build a church in Gladwyne.  The Bishop of the Diocese at the time, Oliver Hart, endorsed the Committee's idea and St. Christopher's Church was born.
The name of the church, St. Christopher's, was the brainchild of Wan Balis, one of the founders of the church.  Amelia Earhart, the American aviation pioneer who was the first woman to fly solo across the Atlantic Ocean, was a first cousin of Wan.  St. Christopher is the patron saint of travelers and thus the name was used in honor of Wan's late, famous cousin.
One of the terms of the Goodbread will was that the land on which the church would be built should be unencumbered, i.e. paid for by the founders of the Church.  The new church founders raised the $12,000 price tag for the four-acre property the Church sits on today, which also included a stable.  That stable is now the entrance and rooms for our Day School.  The Church was designed by the Philadelphia firm of Kneedler, Myrick and Zantzinger. The first service held in the church as we now know it, was on Christmas Eve 1950. It was conducted by St. Christopher's first Rector, "a colorful Texan", the Reverend Robert Q. Kennaugh.  The first baptism and wedding were held in January of 1951 and Bishop Oliver J. Hart conducted a formal service of consecration in September of that year.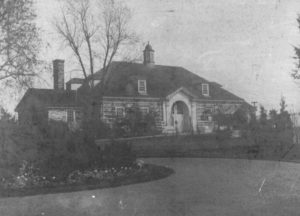 St. Christopher's promptly established a reputation as a friendly congregation. Parishioners have been known to refer to it as "cozy", a reputation it retains to this day. Reverend Kennaugh certainly fostered the idea of a congenial community with his famous barbecues. It was the real thing, huge pit, night long turning and basting of the meat with fabulous results. It certainly made an indelible impression on those who were lucky enough to participate.
Up until 1956, the Church did not own a rectory such that the rectors stayed in a rented property on Maplecrest Circle in Gladwyne (owned by Jack Dorrance) or built their own home.  Knowing that the church needed a rectory to provide for their rector, the church purchased nine acres adjacent to the original four purchased for the church from Wan Balis.  Ground was broken for a rectory in May 1956 (designed by Walter K. Durham, who lived in Gladwyne) and in September, the new rector, Reverend Halsey De Wolf Howe and his growing family moved in. To assist with the financing, the Church borrowed $25,000 from a local bank and paid it back in 1967.  It is the only debt the Church ever incurred.
With 300 children in its Sunday School, and meeting at two different times as there was not sufficient room for all of them to meet at the same time, plans were made to build a new Parish Hall and Sunday School classrooms.  The Church hired the same architects who designed the church and wanted this new structure to fit into the current structure leaving the church building in its prominent place.  The budget for the space was $250,000 and the money was raised in one day from the parishioners.  In 1963 a new parish hall, offices and Sunday School classrooms were consecrated by Bishop Gillespie Armstrong. The busy Sunday School was in the charge of Helen McHenry, the first woman graduate of the Philadelphia Divinity School. St. Christopher's Day School, a non-sectarian school for 3- and 4-year-old children had been established in 1963 and occupied the old parish house, which was part of the original stable on the property when it was purchased.
In 1965, the Reverend Warren H. Davis, Jr. was installed as the church's third rector. He was to remain until 1991, presiding during years of change and some considerable turmoil.  Some of this turmoil was instigated by the socially and politically active Diocese of Pennsylvania bishop, Robert DeWitt.  Many in the parish were in favor of the desegregation of Girard College, opposed the Viet Nam War and supported many other liberal social causes. Such leadership in social and diocesan activism remains a hallmark of this parish today.
As can be seen by the choice of Helen McHenry to be director of religious education at the church, the role of women at St. Christopher's had evolved well before the shocking, to some, ordination of eleven women as Episcopal priests in 1974. The women parishioners of St. Christopher's were responsible for forming the Altar Guild, running Azalea Day, organizing potluck suppers, etc.  Since 1967, they had been elected to the Vestry, the governing body of an Episcopal church. By the time Bishop De Witt and two other bishops ordained those eleven women, the number of women on the Vestry equaled that of men. Women would soon be seen in the position of Rector's Warden (and now Rector).
During Reverend Davis' tenure, there were liturgical changes to be dealt with as well as those of a societal nature. A revised prayer book was presented in 1971 and was used on a trial basis one Sunday a month for about three years and, then in 1974, a revised trial liturgy was distributed and used regularly for about a year. Both the new Prayer Book and the liturgy were adopted for use in 1979 and, not surprisingly, some parishioners who wished to continue to use the 1928 book and the older liturgy left St. Christopher's for churches which retained the old rites.
Despite change and some disagreement, the Parish remained strong and devoted to Reverend Davis, who retired after 26 years in 1991. In that year, Reverend William H. Wood III was installed as rector. A fine preacher and pastor, Reverend Wood used his family, his Virginia roots and his experience in the Navy to enliven and enrich his sermons, which were as full of humor as of wisdom. A man of great warmth, Bill Wood was always approachable and the humor noted in his sermons informed his day to day dealings with his parishioners and his excellent office staff. Many of the new members of St Christopher's were drawn to the parish by his relaxed and welcoming personality.  During his time as our Rector, in keeping with a long tradition of woman clergy, Bill recruited a woman Assistant Minister, Mary Carson, a Woman Deacon, Ruth Hindley, and the beloved Assistant Rector, Mary Laney.
Considerable energy outside his ministry at St. Christopher's was demanded of Reverend Wood, as he and his Parish Assistant, Reverend Laney, were active on the Standing Committee of the Diocese during very trying times, helping ultimately, to put it back on an even keel.
In 2005, Mary Laney had replaced the retired Deacon, Ruth Hindley as Bill Wood's Assistant. Ruth's untimely death in January of 2007 was greatly mourned by all. Mary, a social activist from Philadelphia and an ex-Rector herself, frequently said that she was drawn to St. Christopher's by the strength of its outreach programs. She strengthened and enlarged those programs with wisdom, action and a great helping of humor. Her untimely death, in November of 2012 was a major loss, not only to St. Christopher's, but also to the city of Philadelphia.  It was the first time we had to extend a Memorial Service with a live feed into the Parish Hall to accommodate the crowd.
After 21 years, Reverend Wood whose tenure had been extended for a year past his time for mandatory retirement by the Vestry and the Diocese, retired at the end of March 2013.  An Interim Rector, Bud Holland was handpicked by Bill (and Mary Laney) to act as the Church's Interim while a search was started.
In April 2014, we welcomed the Reverend Doctor Hillary Raining as our fifth Rector.  Hillary and her family did not have to move far as she came from St. Davids Episcopal Church in Radnor where she had been an Assistant Rector.  She has brought a spirit and energy level to the Church as she is a young, vibrant priest full of the Holy Spirit.  She claimed that she told her father when she was 4 years old she was going to be a priest – the parish believes the story.  During her brief time as our Rector, she has increased programs, brought the Day School closer to the parish and installed a long-term plan for the Church's growth.  She recruited The Reverend Doctor Kevin Moroney as our Assistant, for a short but effective eight month tenure before he was called to the General Theological Seminary in Manhattan as the head liturgical professor. The Reverend Andrew Kellner joined us as our Assistant Minister in January 2017 after spending many years as the lead Diocesan Youth Director.  He had been recently ordained as an Episcopal priest and St. Christopher's is his first parish position.
Since its beginnings, St. Christopher's has been a church very much a part of the community of Gladwyne. The Parish Hall is used for the Red Cross Blood Drive; it is the voting place for local and national elections, garden club meetings and many other civic events. The outreach programs, which are so very much a part of the parish, continue in many ways. Azalea Day, the annual Country Fair established in 1951, held on the Saturday before Mother's Day, is devoted to raising funds for the church's outreach projects. The Outreach Committee's policy is to make gifts large enough to "make a difference", so most awards are in the range of $1,000 to $10,000. The Outreach Committee tends to support needy parishes and organizations sponsored by the Episcopal Church and those in which St. Christopher's parishioners volunteer.
The parish also loves "hands on" work: roasting, carving and delivering turkeys with all the fixin's to the Church of the Advocate's Thanksgiving celebration.  This effort sees to it that roughly 250 people have a really happy Thanksgiving. At Christmas, toys are collected for underprivileged children and gift certificates are given to adults (through Episcopal Community Services). Books for children and middle school students donated to Azalea Day now go to Reach Out and Read and a church-sponsored program at St. James the Less. Throughout the year, non-perishable foods are collected for the food banks in the greater Philadelphia area.   Carolers and valentines go to retirement homes, and young people work at The Other Carpenter (rehabbing homes in disadvantaged neighborhoods). It is a parish full of activists.
In brief, it is a happy parish, its services enriched by a music program carefully chosen and nourished by Organist and Choirmaster Scott Drackley. It is financially sound thanks to generous congregants and a series of outstanding and remarkably able Accounting Wardens. Its members have enjoyed and been devoted to its five rectors and with their strong sense of community, equally enjoy one another. Many have come to St. Christopher's from other denominations, bringing with them non-member friends and family to enjoy the potluck suppers and coffee hours. Members take great pride in their "welcome in the pew" and of "giving great parties" both of which are notable and on-going.
St. Christopher's Church is a church in tune with its times with its Mission Statement, To Lift People Up As Christ Calls.
With thanks to Eleanor Townsend's 25 year history, Dick Schneider for his extremely thorough 50th Anniversary history of St Christopher's, Mickey Shumway for her early recollections and poring through Vestry Minutes and to Liz Miller for her late husband, Stewart's reminiscences of the early days of the parish.